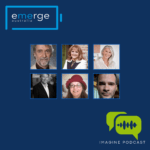 In this unique podcast, we share a fascinating behind-the-scenes exchange between Emerge Australia's CEO Anne Wilson and Chair Mark Clisby.

Mark is co-founder and CEO of two social enterprises and has an extensive background in the Australian Public Service, universities, and NGOs, including as Deputy Director Human Resources at Flinders University, Director Human Resources at the Australian National University, Operations Director at Oxfam Australia, and Director Research Services at La Trobe University.
We learn about Mark's quiet yet diverse pro-bono social service and impact, including as Chair of Emerge Australia, where he is driven to support the ME/CFS community, ensuring the highest standards of governance and management, with a priority on ensuring staff and volunteers have a great workplace to make their own contributions to our important mission and work.