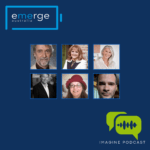 This conversation, hosted by Anne Wilson, is with the extraordinary Lynne Harris, who has been caring for her oldest son, who has just turned 34, for over 3 years. Prior, Lynn was a full-time junior primary teacher. She had to change her life as a mother of two in order to provide the 24/7 nursing home care that her son's medical team ordered. He should be at the peak of his working life—building wealth and raising a family—but he is unable to do any of these things.
In fact, he is unable to do anything for himself—unable to feed himself, hydrate, wash, or use the toilet. He can't interact—he can't tolerate any interactions. As Anne speaks with Lynne, he is in the midst of a flare-up—he is barely tolerating Lynne in the room; he can't tolerate being touched, moved, or spoken to.  Lynne and her family's lives have been changed beyond belief; they are on a never-ending rollercoaster, with no end in sight, in a sea of the unknown, with the unknown terrifying.  A not-to-be-missed heart-wrenching and gritty conversation: thank you for all you do Lynne; thank you to all carers, from the bottom of our hearts.
We extend our heartfelt gratitude for the beautiful interpretation of John Lennon's Imagine – our soundtrack for our podcast series. We're so proud that Bloom has chosen to be an Ambassador for Emerge Australia.