2020 Impact
July – December 2020 
In the second half of 2020, Emerge Australia has continued to make crucial in-roads in support of Australians living with ME/CFS.
Important highlights over this period include the launch of Open Medicine Foundation Australia (OMF Australia) as well as welcoming Casey Stoner as our official Ambassador.  
OMF Australia was founded by Emerge Australia in partnership with Open Medicine Foundation, enabling Australia to join the largest concerted worldwide non-profit effort to diagnose, treat and find a cure for ME/CFS. The Australian ME/CFS Centre for Collaborative Research will officially open early in 2021, led by Dr Chris Armstrong. The Centre, which joins existing research centres at Harvard, Stanford, Montreal, and Uppsala Universities seeks to develop a disease management and treatment approach that focuses on the individual patient and the biology that underlies their disease. This partnership also enables Emerge Australia to join the effort to fundraise for research here in Australia.  
It was wonderful to have the support of our newest Ambassador, Casey Stoner to launch the Australia ME/CFS Centre for Collaborative Research. Having the support of a well-known and much-loved Australian such as Casey, who is a two-time Moto GP World Champion and motorcycle racing legend, enabled the message to reach in excess of 100,000+ people via social media and over 230,000+ people on national news outlets. We look forward to continuing our work with Casey into 2021, as his support enables Emerge Australia to amplify our reach and reduce the stigma experienced by many living with ME/CFS.
Other highlights over this period include:
InfoLine: 95% of calls and 90% of emails are responded to within 24 hours
Telehealth Nurse Service: 480 outgoing client calls completed by the nurses
Education: Our GP education module delivered in partnership with ThinkGP celebrated one-year achieving in excess of 500-lifetime completions. Module 2 is under development and due to launch in early 2021!
Research: the first application for access to the Biobank has been approved.
Reach: 98,856 pages viewed on the website  
While the year commenced with the challenge of COVID-19 to Australia and the world, the year ended on a much more hopeful note, as life began to stabilise in a covid-normal world. With the launch of our new strategic plan, Emerge Australia is prepared for another productive year in 2021.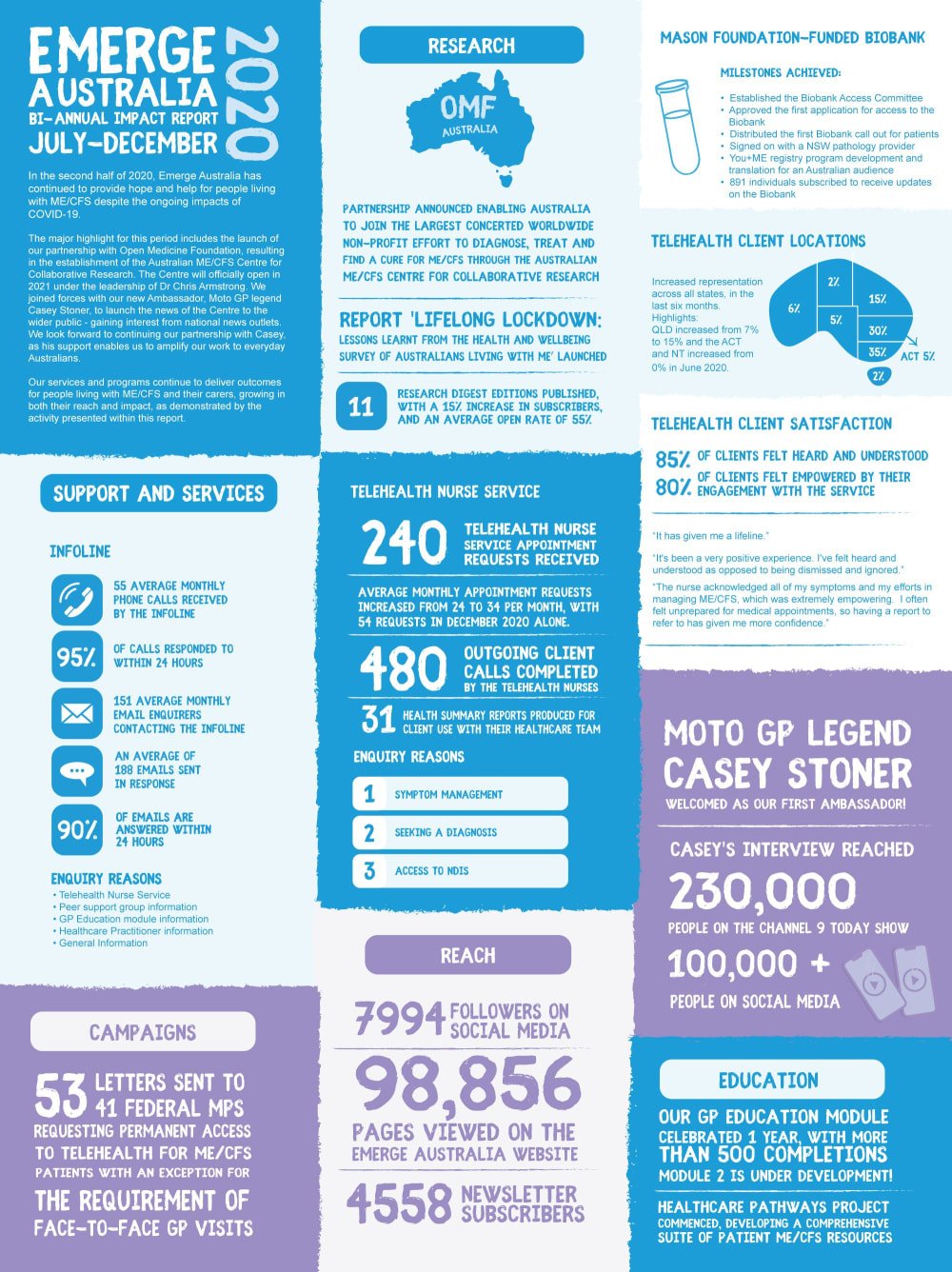 January – June 2020 
Emerge Australia is pleased to share our first bi-annual impact report, which demonstrates the important work achieved in support of Australians living with ME/CFS. 
Our most notable highlights from the first six months of activity in 2020 include: 
InfoLine – 95% of calls to the InfoLine were responded to in 24 hours, with an average of 233 emails sent each month
Telehealth Nurse Service – 196 appointment requests were received with 362 outgoing client calls completed
Campaigns – our #MillionsMissing campaign went global, reaching over 100,000 individuals across 12 countries
Research – The ANCHOR Project into epidemiology and health economics of ME/CFS transcribed 55,000 words from patient focus groups for analyses
Reach – 105,942 pages were viewed on the Emerge Australia website 
In addition, Emerge Australia responded to the needs of the community in light of the COVID-19 worldwide pandemic, producing 20 high-quality plain language information updates, which saw our web hits surge by 600%. This response from the community demonstrates Emerge Australia's important role as one of the most trusted information sources for the ME/CFS community.
While the first half of 2020 has been a challenging time, we are hopeful that access to services such as Telehealth for medical appointments will remain, as our patient community is often excluded from accessing much needed medical care. We are campaigning hard for this alongside other advocacy aims, and look forward to providing further updates on our progress in the next bi-annual impact report, due in February 2021. 
View the Bi-annual Impact report infographic (January-June 2020) 
---
2019 Impact
2019 was a huge year for advocacy at Emerge Australia. We can't thank the ME/CFS community enough for getting behind so many campaigns and ensuring that your collective voice was heard.
Your actions enabled us to secure meetings with politicians across the political spectrum and have led to increased awareness of the challenges faced by people impacted by ME/CFS in Parliament.