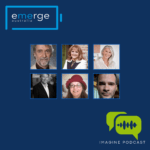 In this podcast, Anne Wilson talks with Emerge Australia's Research Director, Simone Eyssens, who has been a key member of our Emerge team since 2018. Simone lives with severe ME/CFS. Before becoming unwell, she worked as a psychologist for many years, in both private practice and organisational settings. She also trained counsellors in an undergraduate setting. Since becoming unwell, Simone has become passionate about ME/CFS advocacy and has led many advocacy efforts; for example, she has been a patient representative on the National Health & Medical Research Council's ME/CFS Advisory Committee, with a $3 million federal government grant following for biomedical research into ME/CFS.

This is a powerful and poignant conversation, where the personal becomes the professional, where an unexpected development drives home the message, and where we can be so grateful for Simone bringing her extensive knowledge of ME/CFS science and advocacy, as well as her lived experience of ME/CFS, to work for change for Australians living with ME/CFS and their carers.
We extend our heartfelt gratitude for the beautiful interpretation of John Lennon's Imagine – our soundtrack for our podcast series. We're so proud that Bloom has chosen to be an Ambassador for Emerge Australia.