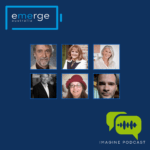 In this podcast, Emerge CEO Anne Wilson talks with Ambassador Tracey Spicer AM. We will learn from Tracey's lived experiences and gain insights that can shed light on this journey.
Tracey says she became aware of ME/CFS through cousins who battled it some years ago as young women. They had gone from leading busy, active, vibrant lives to being "lost" for a long time. More than 18 months ago, after being infected with the Delta variant, Tracey found herself bedridden with Long COVID. She describes it like a "living death".
"Then there is what you would more broadly know as medical misogyny, where you'd tell a specialist or GP about symptoms and they'd come back with, 'Look, you're probably just a bit tired or depressed', implying it's all in your head and you're just being a hysterical little lady …. and that's infuriating," Tracey says. "People with post viral infections such as ME/CFS have precious energy, and using that energy to go to a medical appointment only to be dismissed and disbelieved, leads people to question themselves. 'Gosh am I exaggerating these things?' You know deep in your heart that you are not but because of the societal disbelief and pushback is so big it is very hard to get past that."
"People have had to create their own cures, and that's terribly, terribly unfair when you don't even have the cognitive ability to think. Gosh, I have to drag myself out of bed to cut up some vegetables to steam them for lunch. Even feeding yourself is difficult, let alone thinking about a cure," she says.
"I wanted to use this opportunity to put pressure back on the medical profession and government to say 'hang on' it's about time you did something about this invisible illness because you can't say that ME/CFS is invisible anymore. Long COVID has given it extra visibility."