In 2019, Emerge Australia surveyed over 1,000 people living with ME/CFS about a range of issues including ME/CFS symptoms and onset and experiences of accessing healthcare. When asked about the challenges they faced in accessing appropriate health services, a lack of practitioner knowledge about ME/CFS among GPs, specialists and allied health practitioners was identified as the greatest barrier.
We know that medical practitioners in Australia face significant barriers themselves in accessing clear, accurate information about ME/CFS. For this reason, we have compiled a summary of findings for medical practitioners in addition to our full report, Lifelong Lockdown: Lessons Learned from the Health and Wellbeing Survey of Australians Living with ME/CFS 2019.
This report aims to support medical practitioners who wish to increase their knowledge of the lived experience of people with ME/CFS and consequently provide improved care to their patients. In particular, we present information regarding symptom onset and diagnosis, experience of primary and additional symptoms, experiences with healthcare practitioners, and opportunities to improve healthcare services. You can download it here.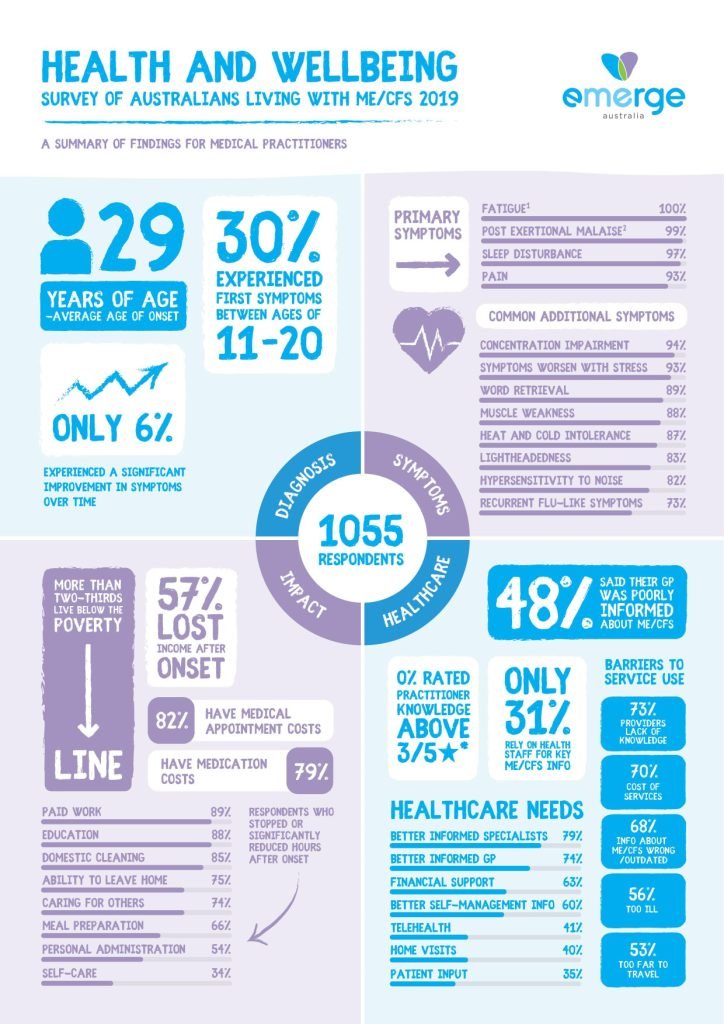 We know that there are many GPs, specialists and allied health professionals around Australia who are invested in improving outcomes for people living with ME/CFS and other chronic illnesses. Emerge Australia welcomes the opportunity to work with interested practitioners to improve knowledge and service delivery for people with ME/CFS. We also encourage all health care professionals and those involved in service provision to consider the recommendations listed at the end of the report, which include that:
the Royal Australasian College of Physicians ME/CFS clinical guidelines be replaced with up-to-date, fit-for-purpose guidance to support GPs and other practitioners in their work with ME/CFS patients
health practitioners have access to education on the aetiology, diagnosis and treatment of ME/CFS based on the current understanding of the condition including through undergraduate and postgraduate courses
telehealth services be made permanently available through Medicare for people with ME/CFS and other chronic illnesses
Thank you for joining with us on this journey to learn more about ME/CFS and improve the support provided to people living with this highly disabling under-researched biomedical condition.