Through the darkness of ME/CFS, Sarah longs for a service where she is understood with care, knowledge, and empathy. Where she can access the professional expertise she needs to manage her chronic illness and live a better life.
Donate to Emerge Australia by 31 December and help us raise $60,000 to expand our telehealth service, to give every ME/CFS and Long COVID patient the critical help they need.
$9,197.00
donated of
$60,000.00
goal
Give every ME/CFS patient somewhere to turn
Let down by community health practices, with outdated clinical guidelines, and being disbelieved and stigmatised – there is an urgent need for the 250,000 Australians living with ME/CFS today to have somewhere to turn – and they do so increasingly to Emerge Australia's Telehealth Service.
Since 2019, our dedicated telehealth service team has supported thousands of ME/CFS patients to manage this disabling disease. Call after call, they have provided support to patients, and their carers, helping them deal with symptoms like post-exertional malaise, severe pain, and sensory overload. Yet the requests for help keep coming. The number of requests keeps growing.
As you read this, our nursing and social work staff are working hard to respond to calls from patients who've developed ME/CFS after a viral or infectious illness, alarmed by their prolonged symptoms and failed by the healthcare system.
Take Sarah – a vibrant dancer, writer, performer and physiotherapist whose life has been shattered by ME/CFS.
Who is Sarah?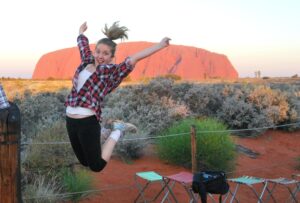 2012 Sarah became very sick with glandular fever, overwhelmed by grief and loss and housebound for two years. Then, as she started to improve, she 
returned to university with mild symptoms, but in her placement week, severely crashed with complications including endometriosis and inflammatory arthritis. This plunged her into moderate/severe ME/CFS.
Sarah has been unable to work since 2019.
Like so many with ME/CFS, Sarah found the process to receive a diagnosis very difficult.
"Several doctors and healthcare professionals gaslit me into thinking I was overreacting to symptoms suggesting graded-exercise therapy (GET) and cognitive behavioural therapy (CBT) would help. They didn't!"
Sarah's symptoms worsened.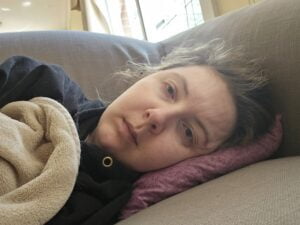 "I was overwhelmed by the experience of getting sick, steadfastly ignoring that fact, cycling through an endless flip-show of doctors for answers, and dealing with the grief and acceptance that comes with a chronic illness diagnosis.
My life was devastated, I lost my independence, had to move back to my parents' home and have had to find a way through – trying to navigate all the losses – profound and disabling grief has been unbearable."
"I'm a physiotherapist – my career was in the healthcare system. Yet even with my knowledge and networks, I was lost. I didn't know what to do, who to turn to."
Even today, the simplest everyday tasks like cooking, cleaning, or showering can be too much and provoke a flare-up of symptoms known as post-exertional malaise (PEM).
Where to for Sarah?
Overwhelmed and lost, Sarah thankfully learnt about Emerge Australia and was able to seek support.
"This was one of, if not the most helpful things I've done. Feeling connected with others and building a community of people around me who understood what I was going through without having to endlessly explain myself, has been incredibly helpful for my mental health, and allowed me to share experiences and access guidance and resources.
I only wish Emerge Australia was able to build on their existing nursing and social work services to offer free allied health services including much needed physiotherapy, dietetics, exercise physiology and psychology. Ease of access to ME/CFS experts in these fields within my energy envelope would have been transformational for me."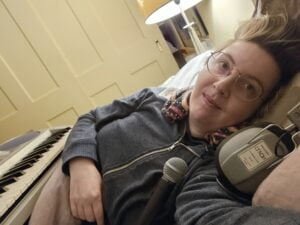 "As an allied health professional myself, I know the immense impact these services could make in reducing harm and improving health outcomes. Emerge Australia gave me confidence. They gave me purpose. And with that, I have been able to adapt and figure out a new way to live my life again."
100% of your donation will go to Emerge Australia, where it will directly support the much-needed expansion of our Telehealth Service. All donations over $2 are fully tax-deductible.
Today Sarah is figuring out how to live her life to the best of her capacity. She is finding hope through innovation and creativity, applying newly learnt skills to writing and performing about her ME/CFS experiences within her energy envelope – while helping to raise awareness and bring hope.
Sarah used to help others as a health professional. But when she needed help for her ME/CFS, the health system dismissed and stigmatised her. You can make sure no patient's cry for help is rejected.
How You Can Help
Your gift today will connect ME/CFS patients like Sarah with caring and knowledgeable specialised nursing and allied health professionals through Emerge Australia's Telehealth services, so they can receive the vital support they need.
When Sarah connected with Emerge Australia, she found a way forward. When patients like Sarah access our qualified telehealth experts, they don't just find guidance and referrals. They find hope for the future, too. Will you give so that every ME/CFS patient can access much needed services?
Your donation can become a meaningful Christmas gift! This year, in lieu of buying a Christmas present for your friends why not give them an Emerge Australia Gift of Care voucher instead?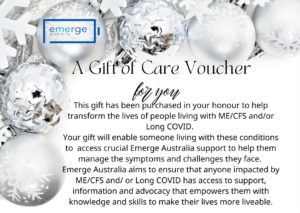 $50 contributes towards the cost of a telehealth nurse support consultation.
$100 contributes towards the cost of a social work consultation.
$250 contributes towards the cost of educating a GP about ME/CFS.
$1,000 contributes towards the cost of training allied health professionals.
$5,000 contributes towards the cost of developing cutting-edge content for allied health education.
$10,000 contributes towards Emerge Australia's Health and Wellbeing Survey.
Details on how to redeem your voucher will be emailed to your inbox with your donation receipt.
"If only I could have accessed proper services when I needed it, I could have avoided so much grief and stigma and be further progressed along my pathway to improved health and independence."
Thank you, once again, for your commitment to improving the lives of ME/CFS patients across Australia.
Yours sincerely,
Anne Wilson, Chief Executive Officer, Emerge Australia
---
To reach out to our Telehealth support, or patient services team, CLICK HERE to be redirected.
If you are having any troubles donating, let us know by emailing us at [email protected].
Give voice to those who are unheard and dismissed. Follow what we do by signing up to our newsletter at http://eepurl.com/grWIcD