Welcome to the 95th Emerge Australia Research Digest, where you will find summaries of some of the latest research and information about ME/CFS, with links to the complete articles.
You can also join our community and choose to have the Digest delivered straight to your inbox at the end of every month, by signing up to our mailing list here.

We appreciate the support of everyone who reads the Digest – we encourage regular subscribers to support us with a monthly suggested donation of $2. You can sign up for monthly giving here.

Stress-Induced Transcriptomic Changes in Females with Myalgic Encephalomyelitis/Chronic Fatigue Syndrome Reveal Disrupted Immune Signatures 


Authors: Van Booven DJ, Gamer J, Joseph A, Perez M, Zarnowski O, Pandya M …  Nathanson L (Nova Southeastern University, USA)
Publication: International Journal of Molecular Sciences
Link: https://www.ncbi.nlm.nih.gov/pmc/articles/PMC9916639/pdf/ijms-24-02698.pdf
Previous studies have focused on identifying biological disturbances in ME/CFS patients at rest however, the most debilitating effects of ME/CFS are often present following stress and exertion. This study aimed to evaluate transcriptomic changes in patients completing an exercise challenge intended to trigger post-exertional malaise (PEM).
Participants for this study were 20 female ME/CFS patients (Fukuda criteria and Canadian Consensus Criteria) and 20 age- and sex-matched healthy controls (HCs). Participants were recruited as part of a larger ongoing study. Participants completed questionnaires, including physical and mental health questions, and were provided with a uniform breakfast before completing a standard maximal graded exercise test. Blood draws were taken at three-time points: before exercise, at maximal exertion, and four hours after maximal exertion.
The authors found that at maximal exertion, ME/CFS participants showed minimal changes in gene expression compared to their levels before exercise. In comparison, HCs showed altered functional gene networks, especially in relation to immune cell signalling and natural killer cell activity. During the recovery period, which is when PEM often develops, ME/CFS participants showed dysregulated immune signalling pathways and dysfunctional cellular responses, whereas HCs showed a reduced inflammatory response.
The authors conclude that the inability of ME/CFS participants to facilitate transcriptomic changes during exertion may be preventing recovery and contributing to PEM. The authors propose that these findings may contribute to the understanding of the genes and pathways that are involved in PEM and ME/CFS fatigue and assist in identifying potential therapeutic targets and diagnostic markers.
Differences in Symptoms among Black and White Patients with ME/CFS 
Authors: Jason LA and Torres C (DePaul University, USA)
Publication: Journal of Clinical Medicine
Link: https://www.mdpi.com/2077-0383/11/22/6708
Research has found that symptom severity differs between ethnic groups. Black individuals have been found to have more severe fatigue and worse sleep disturbance than White individuals. Most ME/CFS research has been undertaken with White individuals, and there is little research comparing ME/CFS symptom severity and prevalence between ethnic groups. This study aimed to examine symptom differences in Black and White individuals with ME/CFS.
The study sample consisted of 19 Black and 19 White ME/CFS individuals (B-ME/CFS & W-ME/CFS respectively) who were matched with heathy controls (B-HC and W-HC).  Researchers obtained their data from a large data set of 2308 patients from several ME/CFS studies conducted at DePaul University. Diagnosis of ME/CFS was by physical examination by physician or self reporting. Participants completed the DePaul Symptom Questionnaire (DSQ) which assesses ME/CFS symptoms in seven domains: sleep, PEM, neurocognitive, immune, neuroendocrine, pain, orthostatic.
Overall, B-ME/CFS and W-ME/CFS had similar symptom scores and both ME/CFS groups had significantly worse symptom scores than HCs. The only significant difference between the two ME/CFS groups was that B-ME/CFS had a higher severity of chest pain. B-ME/CFS scores trended worse than W-ME/CFS in four symptom domains: neurocognitive, neuroendocrine, pain and orthostatic. W-ME/CFS scores trended worse than B-ME/CFS in three domains: sleep, PEM and immune. The authors also noted that the B-HC scores trended worse than W-HC controls in six domains.
The authors acknowledged limitations of the study, including small sample sizes, inconsistent diagnostic methods and inability to match key sociodemographic variables (individuals were matched by sex, race and education only).
The authors conclude that, while Black individuals in the general population may have more symptoms than White individuals, given the severity of ME/CFS, Black and White individuals with ME/CFS may have comparable symptoms. The authors conclude that larger sample sizes are needed to draw firm conclusions.
Exercise
Pathophysiology in Myalgic Encephalomyelitis/Chronic Fatigue Syndrome and Post-Acute Sequelae of SARS-CoV-2: More in Common Than Not? 
Authors: Joseph P, Singh I, Oliveira R, Capone CA, Mullen MP, Cook DB, … Systrom DM (Harvard University, USA)
Publication: Chest
Link: https://pubmed.ncbi.nlm.nih.gov/37054777/
There are considerable overlaps between post-acute sequelae of SARS-CoV-2 (PASC) and ME/CFS. This review outlines the similarities in underlying exercise pathophysiology in response to both invasive and non-invasive cardiopulmonary exercise testing (iCPET and niCPET respectively). The review focuses on people with PASC and ME/CFS who do not have underlying cardiopulmonary abnormalities and who present with post-exertional malaise (PEM).
Preload failure (low ventricular filling pressure), small fibre neuropathy, impaired systemic oxygen extraction, ventilators inefficiency associated with dyspnoea are commonly seen in iCPET in both PASC and ME/CFS.
While deconditioning has been offered as an explanation for exertional intolerance in both PASC and ME/CFS, the authors argue that results from iCPET studies suggest deconditioning is not the primary cause. Findings of preload failure are opposite to the high ventricular filling pressure found in deconditioning. Peripheral oxygen extraction, while impaired in PASC and ME/CFS, is not significantly affected by deconditioning.
The authors conclude that iCPET offers invaluable insights into exercise pathophysiology in both PASC and ME/CFS, and that further study is needed to both better understand the underlying mechanism of exertional intolerance and to develop potential treatments to reduce PEM and increase exercise tolerance.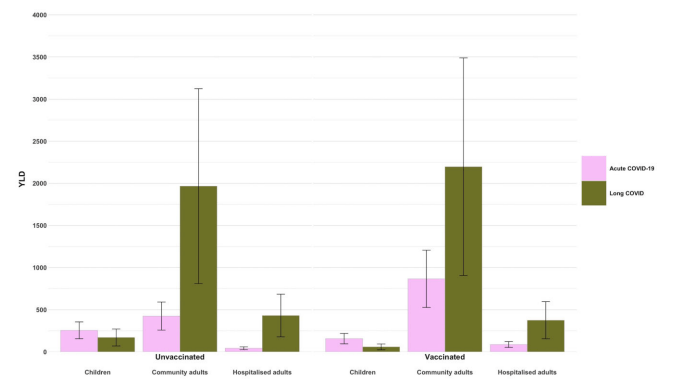 Figure: Years lived with disability (YLDs) resulting from SARS-CoV-2 acute infection vs long COVID during the Omicron wave in Australia
Chronic Fatigue and Long COVID 


Authors: Hunt R, Healey N
Publication: The Conversation Hour, ABC Radio Melbourne
Link: https://www.abc.net.au/melbourne/programs/theconversationhour/the-conversation-hour/102313658
On ME/CFS Awareness Day, The Conversation Hour was dedicated to ME/CFS. Richelle and Nic spoke with people living with ME/CFS about their lives, and also interviewed Emerge Australia's Medical Director, Richard Schloeffel, who spoke about GPs' lack of knowledge of ME/CFS and the difficulty accessing necessary supports like NDIS. Richard emphasised the need for more GP education to help improve their ability to diagnose and manage ME/CFS.
The program runs for 48 minutes.